The employment market may be desolate at home and abroad, but at the top of the pyramid there's a flurry of activity. The crisis has shaken up constitutional thinking and brought along new and more stringent requirements for directors and board members, says one of the world's leading head-hunters, Clarke Murphy, from Russell Reynolds Associates.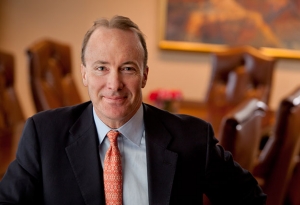 Based in New York City, Clarke Murphy leads the search for top bosses for the world's leading corporations, from Boston to Beijing and from Milan to Mumbai. This is because those leaders who can provide growth cannot necessarily provide results when the curve breaks and the budget shrinks. This creates new and great demands for top officials at executive and boardroom level, says the American president and CEO of the headhunting company Russell Reynolds Associates.

How have the requirements for top bosses changed?

"There's no doubt that you need another type of boss today than you did in the times of prosperity. We need decisive executives, whereas in the past they had the luxury of being able to focus on long-term goals. It takes flexibility to be able to adapt swiftly to new market conditions from a strategic and operational perspective. Furthermore, good communication skills are essential; this is something that hasn't been given sufficient focus. Companies look for good operational leaders, but you end up with a good operational leader who can't articulate why something has gone wrong or quickly explain why something is a good opportunity," he says. The result is a situation in which communication with clients, shareholders, board members or employees is halting. This leads to inefficiency or, at worst, problems. If you let down more than two out of four, trust is damaged, Clarke Murphy explains.

"In the past couple of years we've witnessed how great people have run into trouble through not being able to communicate. A lack of communicative skills weakens one's other abilities in the eyes of the world. This is probably the biggest change in competency requirements for top officials," he says.

Demands of International Insight: The recent downturn in Europe and the USA has also shaken up the requirements for the executive's international understanding. The international perspective has been on demand long before the crisis broke out, but now the bosses need to understand that the relation with developing countries may be topsy-turvy. "A lot of people still haven't understood that Brazil and China aren't just growing markets anymore. They are already immense markets and the dynamic has changed. Earlier on, you invested in a growing market, whereas now you may equally as often be negotiating their upcoming purchase of your company. That takes an increasingly sophisticated top boss."

Has the crisis revealed a regional difference in the type of executive that the companies want?

"You could say that, however, it is also a question of culture. It appears obvious that in the USA and England you find more activist directors than in Southern Europe, Asia or Germany. And that isn't a positive thing. It means that in the USA and England companies tend to make short-sighted decisions when picking a new director. If there's a downturn or a crisis it becomes harder for the board to back up the executive than it was before. As we say in the USA: The board is behind you 100% until it's not," says Clarke Murphy.

Pink slips on the loose: Five years ago the average CEO was in charge for 6.9 years in the USA. Today that figure is 4.8 years. This development tells all about the pressure on the CEOs to deliver. Pink slips are on the loose in the board rooms and several CEOs burn out and retreat. That also means that several companies have become aware of the new management requirements. "As you probably know, one should never waste a good crisis. Everything is happening faster now and the expectations don't mean that you have to act faster and communicate instantaneously. That is too much for one person to handle. The more advanced companies have understood that lifting a non-executive chairman of the board into a role as communicator can prove beneficial for both the shareholders and the management."

Is there a difference between which management figures family-owned companies and stock companies typically look for?

"Yes, there is a huge difference. For executives it may be more attractive to work in a family owned company because those tend to have a long-term perspective on things. That is because the family fortune is at stake. It is something that the family has created, perhaps over generations. On the other hand, decision-making is often a longer process in family-owned companies", he says. Clarke Murphy mentions the chocolate group Mars as an example. The family behind the company has a total fortune of 57 billion dollars tied up in the group's food products. "Stock companies are more aware that they don't get rewarded unless they create a bigger investment return than the rest of the market. That means that one goes for executives who can deliver short-term. In the past, it was basically the ambition of any executive to become boss in a stock company. That is also changing now. It is harder to make money in our current economic situation, and you spend extreme amounts of time on the public ownership instead of developing the business."

Time for fewer posts: It must not only be the recruitment of executives that has been affected by the crisis. How about the selection of board members?

"A clear change happened in 2009-2010. First of all, the days where one has a seat in five-seven boardrooms are over. There is no time for that. That means that there are fewer CEOs to get on the board. Thus competition has increased. Secondly, one wants people who are either good on the operational level or who may cover a specific need in the company," says Clarke Murphy. His example is an American production company who recently wanted to sell directly to their customers online. They wanted a board member who had a background as a marketing executive in a production company that had already gone through that same digital transition. Digital experience is a particularly valuable asset in the filling of tomorrow's boardroom seats.

Now that the crisis is putting increased pressure on the bosses, has this also brought along more board member evaluation than previously?

"Yes, in the past evaluation almost didn't exist. Today it has become common, especially in Northern Europe, to make yearly evaluations of the preparation, input, attendance, etc. in order to enhance the board members' work. This is the only way to find out if someone is not performing and should therefore be replaced. This is also a growing part of our business at Russell Reynolds. Partly to improve the performance of the board and partly to evaluate the board members and make sure that the right people are on the board."

Younger board members: He thinks that the pressure on the boards is more than it was eighteen years ago. The crisis combined with increased reporting requirements means less patience with board members who are not performing. "If you are in a board next to your job, that is probably more than enough to handle. It takes a great amount of time today. If you run into a crisis you're suddenly participating in 20 board meetings in order to resolve it. That time is subtracted from other boards or your own company. So the time factor is definitely contributing."

Does that mean increased competition to get the good ones, or do companies generally look towards the layer just below the top?

"There's a tendency to recruit younger people for the boards nowadays. It tends to be people second or third in a company, but whom you estimate to have the potential to get to the top. Personally, I believe that younger directors are often better and more active board members, owing to their extreme motivation. They tend to have done their homework and be much better prepared. They are so eager to learn that they want to ensure that they're asking the good questions."

How young can you go? "Just look at Sheryl Sandberg who came to Disney's board from Facebook. That is four years ago, so at the time she was in her late thirties. But you see younger than that too. Early thirties is probably the youngest. When you think 'board' you tend to think of old men. Those are two things which are no longer true. There are both men and women and they are younger and with more diverse backgrounds than ever before," says Clarke Murphy.

Diversity is more than gender: In the USA the fastest growing consumer groups are Asians and Latin Americans. That means an increased demand for companies to get representatives of those groups onto their boards, he explains. "Diversity is about more than gender, even if that's dominating the debates. Companies don't just want women. They also want people with different ethnic backgrounds, because you need someone who knows what food, films, clothes and so forth the different groups want. It will be the same in Europe at some point. As new groups, and thus their specific taste and demands, gains ground, the boards will try harder to find representatives of those groups. Not to cross off a point in the CSR-report, but rather to understand these new groups."

How much does cultural background mean compared to company culture?

"Indian, German, Danish or American. There is nothing right or wrong. But there are executives who don't suit a given corporate culture. We try to find a marriage in which the culture is matching and the competency is present. National cultures have a great impact on the company performance and on whom one wants in the management and on the board. Some cultures, East Indians for example, are very entrepreneurial. Therefore they are expected to produce executives, whereas for instance the Germans are more operationally oriented," says Clarke Murphy.

The headhunter's new ballgame: Talent development is one of the big growth areas in headhunting. This is a paradox, he adds, as the primary function of headhunters is to find people from outside. "In relation to company culture, this is an important point. To develop your own talents skillfully means that you get good people who know the culture. But it's hard for the boards to estimate their own talents. If they have 20 good young people and choose to focus on the five best, they rarely look into how these five people benchmark in relation to their competitors. But imagine that you discovered that only one of them is as good as the competitors. Then, all of a sudden, you see those five persons in a different way. Actually I think we've spent the same amount of time on keeping employees as we have on finding new ones during the past five or six years," he says.

So the crisis hasn't changed only the requirements for executives and board members?

"No, it has definitely also changed the requirements for us," says Clarke Murphy.